Doing Your Social Security Disability Hearing Remotely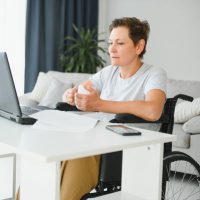 If you're disabled and unable to work, you may have been told to file a Social Security Disability claim. However, be warned: these claims are rarely ever approved the first time around – and if they are, it's never done quickly enough.
You do have the right to appeal. Appeals are done through hearings. In the past, hearings were in person only. This meant you had to show up to court, which is often inconvenient and challenging for those who are disabled. If you didn't show up, your case would likely be dismissed.
That all has changed since COVID. The legal world changed, banning in-person meetings, hearings, and other services. Since March 2020, the Social Security Administration has expanded its options for hearings, and it's likely that these options will become permanent.
While you can request an in-person hearing, video and telephone hearings are also options. You can choose which option you prefer via the COVID-19 Remote Hearing Agreement Form. Keep in mind that video and telephone are the quickest and most convenient options. In-person hearings will often result in delays, but allowing the judge to see you manage your disability in person can be helpful for your case.
Most claimants are choosing telephone hearings. That's likely because they can be done from home and are being scheduled faster. However, the downside with this option is that the judge cannot see you. They have no visual cues of how your disability affects you. They can't see that you're using a cane or a walker. They can't know for sure that you suffer from anxiety or panic attacks. It may be hard to approve your claim without this visual evidence.
Also, keep in mind that during a telephone hearing, you have to be in a private location, so don't try to attend your hearing remotely in a coffee shop. You also cannot receive help with your testimony or record the hearing. Make sure you give the Social Security office your correct phone number. This seems easy enough, but if they can't get a hold of you, then your hearing may be dismissed.
Video hearings are a good option because they allow the judge to see you, which can give them a better idea of your condition. However, you will need to be somewhat technologically savvy. You will need to download Microsoft Teams, but Social Security will provide you with instructions. Again, a video hearing will save you time. However, technical difficulties can crop up from time to time, which can be frustrating.
Learn More About Social Security Disability Benefits
Many Social Security Disability claims are denied the first time around. If you choose to appeal, know that you do have options.
Contact a White Plains Social Security Disability lawyer from The Law Office of Michael Lawrence Varon for help so you can get your claim approved timely. Call (914) 228-1770 or fill out the online form to schedule a free consultation.
Source:
centralwinews.com/starnews/2023/01/18/disability-benefit-hearings-go-remote-should-you/?destination=star-news