Health Issue Forcing Early Retirement? Consider Social Security Disability Benefits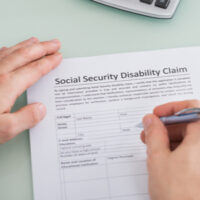 While most Americans are eligible to start receiving Social Security checks at age 62, they can maximize their payments by working until age 70. Because of this, many people delay retirement. But sometimes things don't go as planned. Some people are forced to stop working earlier than they expected due to a health issue.
Many people feel as if their only option in this case is to start their Social Security benefits early. This can mean lower monthly benefit payments, though, which can be frustrating for someone who has worked for decades. If you opt for benefits at age 62 rather than age 70, you could be missing out on roughly an extra $1,000 per month, depending on your income. This could mean $12,000 a year. After 10 years, you'll be missing out on $120,000. You get the picture.
However, this doesn't have to be your fate. If you cannot work due to a disability, you can opt for Social Security Disability benefits instead. This is a different program, but if you pay into it, you are entitled to it should you become disabled during your working career. You can take advantage of it until you reach full retirement age, which is 66 or 67, depending on the year you were born.
If you take Social Security retirement benefits instead, you'll face a penalty of nearly 7% per year if you file within three years of your full retirement age. If you file even earlier than that, you'll face an additional penalty of 5% per year.
However, if you opt for the disability benefits, your retirement money won't be affected. Your disability benefits are based on the 35 years in which your income was the highest, so years of little or no income won't be counted against you.
By opting for disability benefit, you protect your retirement from penalties. Plus, by delaying it, you make it increase, so it's a win-win situation.
Do keep in mind, though, that you must first qualify for Social Security Disability benefits, which isn't easy. Your disability has to be long-term one, lasting longer than a year (such as paralysis, a brain injury or cancer). Also, the disability must be severe enough to make you unable to work. Many claims are denied the first time around, though, as proving this can be challenging. You'll need sufficient evidence. Get help from a lawyer who specializes in Social Security claims to improve your chances of success.
Learn More About Social Security Disability Benefits
Social Security Disability benefits can be helpful to those who have to retire earlier than expected due to a health issue. Instead of reducing the amount you'll receive from your monthly Social Security checks, you can consider other options like disability benefits.
White Plains Social Security disability lawyer Michael Lawrence Varon can help you maximize your income and retirement. See what options are available to you. Fill out the online form or call 914-294-2145 to schedule a free consultation.
Resource:
mooresvilletribune.com/business/investment/personal-finance/health-issues-forcing-early-retirement-do-this-before-applying-for-social-security/article_1cd2c465-8847-5ea2-ae85-1fd8db8fcd2f.html
https://www.nycompensationlaw.com/contract-workers-fighting-for-workers-compensation-other-rights-amidst-pandemic/