Homelessness Among Veterans On The Rise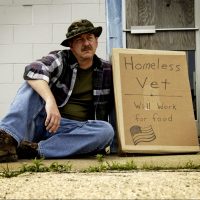 Homelessness is a huge problem in New York. The problem is especially on the rise in New York City, where the number of homeless people has reached the highest levels since the 1930s, during the Great Depression.
The coronavirus pandemic has led to massive inflation across the country. Many individuals and families are on the streets due to a variety of issues, including eviction, rising rents, and mental illness. Veterans who are on fixed incomes are especially affected.
Inflation has reached 8.5%. In some states, it is even higher. This is causing many veterans to experience homelessness for the first time, as their monthly benefit payments cannot keep up with expenses.
While inflation has gone up a little bit each year, it's never been like it is now. Many rents are double what they were a few years ago. Veterans are on fixed incomes. They can't just go out and work and earn more money.
Veterans are stuck. Many are experiencing homelessness for the first time in their lives. While agencies such as housing authorities are trying to help, they can only do so much. There are only so many housing units available. Resource centers are overflowing. There are not enough beds.
Some homeless veterans are given housing vouchers. While they may help somewhat, they don't always pay the full amount, especially given the increases in rent. Contractors are building more apartments, but they are typically luxury ones that may cost upwards of $2,000 a month. That's a lot of money and the housing vouchers certainly don't cover that much.
The veterans who are homeless span all ages. Although there is a large number of senior veterans who are homeless, younger ones are also affected. That's because those who come back from war often suffer from mental issues, and mental health is frequently tied to homelessness. There are diverse reasons why veterans experience homelessness. It's not always cut and dry.
Fortunately, the Department of Veterans Affairs (VA) has programs that can help. The VA is focused on ending homelessness among veterans by proactively seeking out veterans in need of assistance and collaborating with local, state, and federal agencies, as well as housing providers and nonprofit organizations. The VA also helps connect homeless and at-risk veterans with housing solutions, health care, and employment services. Veterans who are homeless or at risk of homelessness can also be proactive and call the National Call Center for Homeless Veterans at (877) 424-3838 to request assistance.
Learn More About Veterans Benefits
The economy is greatly affecting those on a fixed income, such as veterans. Sadly, many veterans are becoming homeless, which is a huge issue.
You've sacrificed a lot to serve your country. A White Plains veterans disability benefits lawyer from The Law Office of Michael Lawrence Varon can help you get the benefits you deserve. There are programs that can help. To schedule a free consultation, fill out the online form or call 914-294-2145.
Source:
universe.byu.edu/2022/08/02/war-veterans-experience-first-time-homelessness-caused-by-inflation/