Look For Large Veterans Benefits Increase In 2022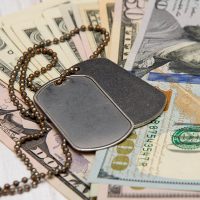 Veterans have done a lot to protect their country. The government is now rewarding them with the largest cost of living increase in decades.
In 2022, the increase will be set at 5.9%, which is the largest annual increase since 1983 – almost 40 years. This results in an extra $59 for every $1,000 in veterans benefits for retired servicemembers. For those in the CSB/Redux retirement plan, the increase is 4.9%.
For those who are disabled, the increase will be based on disability rating. A person with a 10% rating will receive an additional $8.50 a month. Those with a 100% rating will get an extra $185.64 per month. Clothing allowances, as well as benefits for surviving spouses and children, are also subject to the cost of the living increase. Retired and disabled servicemembers – approximately 70 million Americans – will see these increases starting in December.
Calculating the Cost of Living Increase
Social Security and veterans benefits increase every year based on inflation, or cost of living increase. The Consumer Price Index for Urban Wage Earners and Clerical Workers (CPI-W) is used to determine the percentage increase. The change is measured over the span of July, August, and September 2020 and compared to the same three-month span in 2021. The increases have been occurring every year since 1975.
For 2021, the cost of living increase was just 1.3%. This has been the average for the past six years. It hasn't been over 3% since 2011. The largest increase was in 1981, at 14.3%. In 1983, it was at 7.4%. The increase for 2022 will be the largest one since that time. In 2010, 2011, and 2016, there were no increases at all, causing benefit payments to stay the same.
Why the Increase is Important
For millions of veterans, the benefits they receive from the Department of Veterans Affairs (VA) on a monthly basis is their only source of income. Therefore, when there is inflation and prices rise, benefits need to reflect this. The increase for 2022 was so high due to skyrocketing prices. Food, gas, and other goods and services have seen significant increases in 2021. This is due primarily to COVID-19 as well as extreme weather conditions in the United States. These two factors have strained supply chains in not only the country but across the entire world.
The annual cost of living increase is a quality-of-life guarantee for veterans who are retired or are suffering from service-connected disabilities and ailments. The payment increases help bring about peace of mind for veterans, their spouses, and dependents.
Learn More About Veterans Benefits
For veterans who rely on their benefits, the extra money will be very helpful. It will help those who have served their country pay bills and necessities.
Take advantage of this high cost of living adjustment. White Plains veterans disability benefits lawyer Michael Lawrence Varon in White Plains can help you with your veterans benefits claim and make sure you get what you are entitled to receive. Schedule a free consultation by calling 914-294-2145 or filling out the online form.
Source:
aarp.org/home-family/voices/veterans/info-2021/benefits-increase.html