Man Gets Veterans Benefits Using Twin Brother's Stolen Identity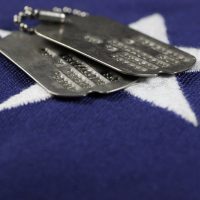 Stealing identities is often done for one main reason: money. Acting as another person can help a person get certain benefits, including veterans benefits.
This was what a Florida man did. He used the personal information of his twin brother to obtain tens of thousands of dollars in veterans benefits.
In late January, the 64-year-old man pled guilty to aggravated identity theft in federal court. As part of his plea agreement, he must spend two years in federal prison and pay restitution in the amount of $63,773.
The identity theft scheme began in 2014 when the man used his twin brother's name, Social Security card, and military discharge papers to apply for housing benefits. These federally subsidized benefits were part of a program administered by the U.S. Department of Housing and Urban Development and the U.S. Department of Veterans Affairs.
The man admitted to using his brother's identity by using a Florida identification card. He had been arrested and convicted of felony offenses using his twin's identity. Initially, he told law enforcement officials that both he and his twin brother had been honorably discharged from the U.S. Army. He later admitted that was a lie.
The man's fraudulent use of his brother's identity resulted in$32,434 in medical services, 18,905 in housing subsidies, and $12,434 in nutritional benefits. His estranged twin confirmed that he never gave his brother permission to use his name and never applied for any of the benefits.
Identity Theft in the Family
It's bad enough when a stranger steals your identity. When a family member does it, it can be devastating. It can ruin your credit score and lead to legal issues. It can also lead to distrust among the family.
Identity theft often has a financial component involved. A person may steal another person's identity to withdraw money from a bank account, obtain a loan, or open new lines of credit.
Identity theft may also involve taxes, such as by using a person's information to get their tax refund. Identity theft can occur in medical form as well. Someone may use your health insurance or personal information to get a hold of certain drugs, especially if they have an addiction. Sometimes identity theft can involve employment or benefits, which would involve someone using your Social Security number or other information to gain employment.
Learn More About Veterans Benefits
Identity theft is often done to get government benefits. People engage in various scams for financial benefit, and veterans benefits are no exception.
Because of the theft and scams involved, it can be hard for those who are truly disabled and need veterans benefits to quickly get them. The Law Office of Michael Lawrence Varon is a White Plains veterans disability benefits lawyer who has decades of experience and can help you with your case. Schedule a free consultation by calling 914-294-2145 or filling out the online form.
Source:
military.com/daily-news/2022/01/29/florida-man-guilty-of-using-twins-id-veterans-benefits.html