Mental Trauma In The Workplace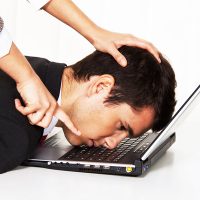 When you think of workplace injuries, slips and falls and machinery accidents are probably the first things that come to mind. However, psychological and emotional trauma can also occur at work.
Workplace trauma refers to any traumatic event that occurs in a work setting. While those in police work, firefighting, and the medical fields see a lot of trauma, mental injuries can happen at any workplace.
You cannot see mental injuries, unlike physical ones, but they can be just as debilitating. They can greatly impact your health and your ability to earn a living. A mental injury can make it impossible to work, as traumatized workers focus on survival, not work. Some people require counseling and other medical treatments.
An event is more likely to be perceived as traumatic if it is:
Outside of the victimized person's control
Unpreventable by the victimized person
The result of cruelty (intentional or unintentional)
Under New York law, you can receive workers' compensation benefits for mental trauma caused by work conditions. However, you will need a lot of evidence, as these injuries are hard to prove and connect to a specific workplace incident. Insurance companies will often try to limit your benefits or deny your claim entirely. Contact a lawyer to learn more about your legal rights and options for financial recovery.
What is Causing Mental Injuries in the Workplace?
While physical injury, illness, or the death of a co-worker are common causes of mental injuries, crimes are also becoming more prevalent in the workplace. Workplace violence is on the rise, killing close to 18,000 people since 1999. Most of these acts of violence occurred in convenience stores, office buildings, and other public places. Others took place on streets and in private residences. The highest incidence of workplace homicides happened in three main sectors: sales, protective service (police and firefighters), and transportation.
Workplace trauma does not have to be tied to a specific event, though. It can accumulate over time and be caused by issues such as:
Work burnout and overload
Job insecurity
Bullying and harassment by co-workers and customers
The symptoms of workplace trauma can mimic post-traumatic stress disorder. The most common symptoms are anxiety, depression, and grief. Other symptoms include:
Changes in sleeping patterns
Decreased sense of security
Irritability
Being easily distracted
Isolation
Workplace trauma needs to be dealt with properly. If left untreated, it can lead to health risks like heavy drinking or drug use.
Contact Us for More Information About Workers' Compensation Benefits 
An accident in the workplace can qualify you for workers' compensation benefits, but it doesn't have to be physical in nature. Even mental stress can affect your work.
Can you file a claim? Get your questions answered by a White Plains workers' compensation lawyer from The Law Office of Michael Lawrence Varon. Let us assess your case today. To schedule a free initial consultation, fill out the online form or call (914) 228-1770.
Source:
fit-counseling.com/workplace-trauma/