New York Bus Driver Sentenced For Workers' Compensation Fraud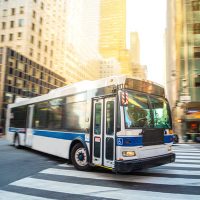 Many people engage in overemployment — which involves working multiple jobs at once — in order to earn as much money as possible. Some people try to do this with government benefits like workers' compensation. They work other jobs even though they're supposed to be too disabled to work.
This situation happened in New York, when a bus driver claimed to be injured. While collecting workers' compensation benefits, the woman worked other jobs to supplement her income. She has been charged with larceny.
The woman, a former bus driver for the Niagara Frontier Transportation Authority in Buffalo, misrepresented her injuries, allowing her to get workers' compensation benefits from September 2018 to February 2020. She originally claimed that she was unable to work due to a right knee injury. She later changed her claim to a left knee injury and lower back injury.
The district attorney's office investigated the bus driver's claim, which revealed that she worked for eBay and Instacart while collecting workers' compensation pay. In total, she fraudulently obtained $30,212.69. On September 26, the woman, from Kenmore, pled guilty to one count of grand larceny.
The woman was recently sentenced to five years of probation for misrepresenting her injuries and fraudulently obtaining workers' compensation benefits. She must also pay back the $30,000+ she received in benefits to the Niagara Frontier Transportation Authority.
Common Examples of Workers' Compensation Fraud
Workers' compensation fraud is a serious issue, costing businesses $30 billion every year. Here are some ways in which fraud can occur:
Double dipping. This is a common practice in which a worker collects workers' compensation while working and earning income. This fraud is harmful to the company, since they are paying the workers to stay home and recover when they are clearly not. This can also make the workers' injury worse.
Exaggerating the injury. This type of fraud occurs when an employee claims an injury is so severe that they cannot work. Meanwhile, there are photos of them on social media engaging in sports activities.
Personal time fraud. This occurs when someone injures themselves on their personal time and claims that they got injured while at work. Businesses need to be thorough, ask questions, and document all details in a report.
Provider fraud. There are situations in which medical providers can get involved. Corrupt doctors may inflate medical bills to get more money from the insurance companies.
Contact Us for More Information About Workers' Compensation Benefits
Workers' compensation benefits are available to those who are disabled to some degree and truly need the financial help. If you can work other jobs, then you can earn income and do not deserve these benefits.
A White Plains workers' compensation lawyer from The Law Office of Michael Lawrence Varon can help you understand the laws and procedures for getting workers' compensation and other benefits. Schedule a free initial consultation today by calling (914) 228-1770 or filling out the online form.
Source:
insurancejournal.com/news/east/2022/12/22/700535.htm