New York Introduces Workers' Compensation Retaliation Bill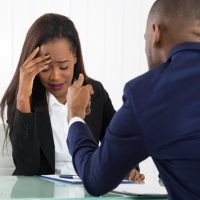 In an employment setting, retaliation should never be an issue or concern. Employees should feel free to exercise their legal rights in regards to workplace injuries, unsafe work duties, and taking time off for jury duty or to provide care for loved ones under the Family and Medical Leave Act (FMLA).
Many New York workers still face retaliation in their workplace, especially if they are immigrants. A new law would make this illegal. Senate Bill 1488 would prohibit employers from retaliating against workers who file for workers' compensation. Specifically, the law would prevent employers from threatening U.S. immigration authorities over a worker's citizenship or immigration status. The bill also applies to family members and household members of workers.
If passed into law, the bill would require offending employers to pay between $500 and $2,000 in fines. The law already makes it illegal for employers to discriminate against employees who file workers' compensation claims. The bill adds "retaliation" to the law for clarification. It has been sent to the Senate Labor Committee.
What is Retaliation?
Retaliation is any negative action taken against an employee after they file a complaint or exercise their legal rights. Employers may retaliate against employees in the following ways:
Reprimand you
Spread rumors about you
Scrutinize work or attendance more closely
Threaten reassignment
Transfer you to a less desirable position
Make false reports to government authorities (such as immigration agencies)
Treat a family member negatively
Intentionally make your work more difficult (for example, by changing your work schedule)
Give you an unfairly poor performance evaluation
File criminal action against you for no valid reason 
Immigration-related retaliation is when an employer's behavior is based on the workers' immigration status. This is when an employer threatens an employee by using their immigration status against them. Some examples include:
Telling the employee "Go back to your home country"
Asking the employee if they are from the United States
Asking to see the employee's green card
Telling the employee that they have no rights because they are undocumented
Retaliation Under Federal Law
Retaliation is against federal law. Equal Employment Opportunity (EEO) laws prohibit punishing employees for asserting their rights. This is called "protected activity," and it can take on many forms.  Some examples of protected activity include:
Communicating with a supervisor or manager about harassment or other employment discrimination
Answering questions during an employer investigation of alleged harassment
Refusing to follow orders that would result in discrimination
Resisting sexual advances
Requesting accommodation of a disability or for religious purposes
Filing or being a witness in an EEO complaint
Contact Us for More Information About Workers' Compensation Benefits
Workers should not have to face retaliation in the workplace for any reason. Workers have legal rights that they should not be afraid of using.
Facing retaliation or other issues after a workers' compensation claim? Seek legal help from a White Plains workers' compensation lawyer from The Law Office of Michael Lawrence Varon.  We'll make sure your legal rights are protected. To schedule a free initial consultation, fill out the online form or call (914) 228-1770.
Source:
businessinsurance.com/article/20230113/NEWS08/912354886/Workers-comp-retaliation-bill-introduced-in-New-York-