New York Man Used Fake COVID Tests To Claim Workers' Compensation Benefits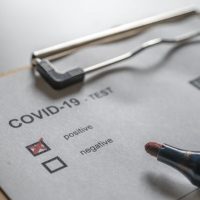 Workers' compensation benefits are reserved for those who get sick or injured while on the job. However, some people are trying to take advantage of this situation in the age of COVID by pretending to be sick with the potentially fatal virus. That way, they can receive benefits.
A New York man did this for several months and was arrested. Over that time period, he collected more than $1,700 in benefits.
The 23-year-old man from Staten Island accomplished his scheme by submitting multiple fake COVID tests that showed he was positive for the disease. The scheme began in April 2020, when he filed a workers' compensation claim. He alleged that he was exposed to COVID-19 and filed a claim that included a physician's note and a positive COVID test.
The man's claim was approved and he started collecting $150 per week in workers' compensation benefits. He then continued to receive benefits by submitting seven more positive COVID-19 tests. He also submitted two more physician's notes that excused the man from work through August.
The insurance carrier continued to pay workers' compensation benefits to the man until July 24, 2020. That was when the carrier noticed that the same specimen ID was used for many of the positive test results. By this time, the man was paid more than $1,700 in benefits.
It was determined that two positive tests that were submitted in April were real. The rest were fakes. One of the doctor's notes was also fake.
The man is facing multiple criminal charges, including one count of insurance fraud, one count of grand larceny, and seven counts each of falsifying business records, worker's compensation fraudulent practices, and forgery.
Benefit Scams
Benefit scams are becoming more common in the age of COVID. People are trying to take advantage of the system in order to obtain money illegally without having to go to work. This is especially true for workers' compensation benefits.
Workers' compensation fraud occurs when someone intentionally misstates facts or conceals information in order to receive benefits. Some examples include the following:
Exaggeration illnesses or injuries in order to take time off work
Not reporting income when working while allegedly disabled
Receiving benefits for a job-related injury that never occurred
Claiming that you got injured at work when you really got injured somewhere else 
Contact Us for More Information About Workers' Compensation Benefits 
The pandemic has led many people to commit fraud in order to obtain benefits. Because of this, it has become much harder for those who are truly injured to get approved for the benefits they deserve.
The process, however, is strict and there are many procedures in place. Contact an experienced White Plains workers' compensation lawyer from The Law Office of Michael Lawrence Varon today. We'll help you get approved the first time around. Schedule a free initial consultation today by filling out the online form or calling (914) 228-1770.
Source:
nbcnews.com/news/us-news/man-submitted-fake-covid-tests-months-collect-workers-comp-ny-official-rcna12867