Obtaining Social Security Disability Benefits for Psoriatic Arthritis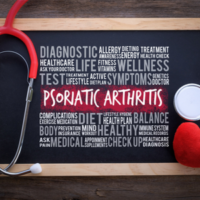 There are many medical conditions that qualify for Social Security Disability benefits. You don't necessarily need to have a terminal illness, like cancer, but you do need to have a chronic one that significantly impacts your ability to work. One example is psoriatic arthritis.
Psoriatic arthritis is a type of medical condition that sometimes affects those who have psoriasis, which is a skin condition characterized by red patches and silver scales. Psoriatic arthritis causes inflammation, stiffness and joint pain. This disease often causes serious flare-ups, followed by periods of remission.
Psoriatic arthritis often makes it hard to move. The disease is unpredictable and while medication can help, it can still cause a lot of uncertainty, especially when it comes to employment. The effects of psoriatic arthritis can make it difficult to work, often causing patients to be away from work for weeks or months at a time. In fact, a study showed that more than 30% of those with psoriatic arthritis miss work and are unable to work full time.
The good news is that those with psoriatic arthritis may be able to file a claim for Social Security Disability benefits. The Social Security Administration (SSA) considers psoriatic arthritis to be an immune system impairment. It can be found under Sections 14.00D6 and 14.09 as "inflammatory arthritis." This broad description encompasses various inflammatory arthritis conditions that limit movements through swelling, tenderness and joint pain.
If you have been diagnosed with psoriatic arthritis and are unable to perform substantial gainful activity, then you likely qualify for benefits. In many cases, you can work and obtain benefits, as long as you don't earn above a certain amount, which is typically capped at $1,200 per month.
Even if you have private disability insurance, you can still apply for Social Security Disability benefits. That's because disability insurance only offers short-term coverage, so you can use this insurance to supplement your income while you wait for your Social Security Disability application to be approved. After all, you shouldn't expect to get approved for benefits right away. Chances are, you will be denied the first time. Even if you're not, you could be waiting many months for your first payment.
To get your claim approved quickly, make sure to have your paperwork in order. Your claim may include musculoskeletal, cardiovascular, neurological, immune system, pulmonary, ophthalmologic and mental concerns. Make sure that all pertinent information, such as lab tests, notes, diagnoses, medications, treatments, work history and time off work, Is made available to the SSA when you file your claim.
Learn More About Social Security Disability Benefits
Psoriatic arthritis often starts out as a skin condition and then starts to affect your joints. This can make it difficult for you to work and earn income, but luckily, there are disability benefits available.
However, getting approved for Social Security Disability benefits is no easy task. The laws are complex and you'll need a significant amount of evidence. Seek legal help from White Plains Social Security disability lawyer Michael Lawrence Varon. He has the skills and experience to help you obtain benefits quickly. Call 914-294-2145 or fill out the online form to schedule a consultation.
Resource:
healthline.com/health/psoriatic-arthritis/a-guide-to-disability-benefits-and-psoriatic-arthritis
https://www.nycompensationlaw.com/wp-admin/post.php?post=2174&action=edit