VA Retirees And Disability Recipients To See Biggest Raise In Six Years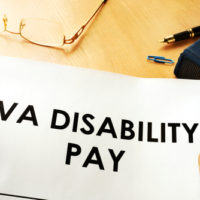 Disabled and retired veterans will see a change in their benefits paychecks soon. But they shouldn't worry—this is a positive change. Vets will be getting a cost of living increase in their checks starting in January 2018. The 2 percent raise in pay will be the largest since 2012. There was no increase in 2015, and last year, the increase was a paltry 0.3 percent.
The cost of living increase is based on the Consumer Price Index. It is larger this time due to increased gas prices caused by Hurricane Harvey. Those who are retired from the military may see monthly increases as large as $310. E-7s (Sergeant First Class in the U.S. Army) with 20 years of service will see their checks increase by $46 a month, and O-5s (Army, Marine Corps and Air Force officers) will see an increase of $88. Those who are disabled will see the amounts of their checks go up $3 to $58 a month, depending on their disability rating percentage.
But the increase isn't limited to retirees and disabled veterans. Civil service retirees will also see a 2 percent increase in their checks. Those who receive Social Security benefits will see an average of $25 extra in their monthly checks. Those who those who draw Dependency and Indemnity Compensation and Survivor Benefit Plan beneficiaries will also reap the benefits. Altogether, about 70 million Americans will benefit from the cost of living increase.
Understanding Cost of Living Increases
We live in a society where inflation is common. Prices do not remain the same year after year. Stock markets, supply and demand, and natural disasters can cause prices of everyday items—such as gas, cars and groceries—to fluctuate.
The Social Security Administration bases its payment increases on the cost of living, and has done so since 1975. Increases are determined every October, with the next one scheduled for October 2018. The recent 2 percent increase was determined on October 13, 2017.
The largest cost of living increase was in 1980, at 14.3 percent. There were no increases in three years: 2009, 2010 and 2015. In the past 25 years, the highest cost of living increase was in 2008, when it reached 5.8 percent. These increases tend to average around 1-4 percent.
Increases are based on the Consumer Price Index, which measures changes in prices of consumer goods. To calculate price changes for a specific item, you find the previous price and current price. Divide the current price by the previous price, multiply by 100. Finally, subtract 100 to get the Consumer Price Index for that particular item.
Contact Us for More Information About VA Benefits
Veterans' benefits are seeing a much-needed increase. Make sure you take advantage of these monthly raises if you qualify.
Are you a veteran? If so, contact the Law Office of Michael Lawrence Varon in White Plains to learn more about the types of benefits you may be entitled to receive. Don't miss out. Call his office at 914-294-2145 to schedule a complimentary consultation.
Resource:
taskandpurpose.com/va-disability-retirees-pay-raise/