Veterans: Be Aware Of Financial Scams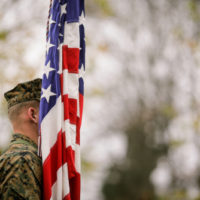 Getting veterans' benefits is so difficult that some veterans will do what it takes to make sure they get them—even if it means falling for scams. Unfortunately, many people think they can take advantage of senior citizens. These investment professionals pose as veterans advocates and visit nursing homes and community centers throughout the nation in an effort to convince veterans that by purchasing financial products and overhauling their assets, they can receive instant benefits right on the spot.
Given that so many veterans have been frustrated by the fact that it takes so long to receive the benefits they so desperately need and deserve, they often don't think twice about signing up for these "offers." This growing scam, however, is hurting veterans instead of helping them. Vets end up making unwise investments that impact their eligibility for Medicaid and other services.
The scam involves getting vets to transfer their assets to an irrevocable trust. This gives the impression that the vet is poor and as a result, he or she is eligible for Aid and Attendance and other programs. It also qualifies the veteran for a pension from the Department of Veterans Affairs (VA).
This method works because the VA doesn't "look back," meaning that you could have millions of dollars one day and be poor the next day, and the VA won't examine your asset history to find out why. However, Medicaid does look back, so you could lose out on your benefits if it finds out that you lied about your assets in this way.
This new trust is also a scam because it contains long-term investments that are inappropriate for seniors. A vet may not benefit from these assets for at least a decade. However, these types of investments yield high commissions for the salespeople.
How to Protect Yourself
The U.S. Government Accountability Office (GAO) found that in 2012, there were more than 200 organizations targeting their services to veterans. Many of these organizations affected the vets' eligibility for certain services by lowering their net worth.
If you or a loved one is a veteran, follow these tips to avoid being a victim of a scam:
Don't fall for financial planners presenting in a nursing home or community center. These facilities will not protect you, as they receive money from the presenters in exchange for presentations.
Don't be fooled by official names. Be wary if someone claims they are from the AARP or Veterans Affairs. These agencies typically do not hold financial planning seminars.
Contact the New York State Division of Veterans' Affairs to get factual information about veterans' benefits.
Contact Us for More Information About VA Benefits
Don't lose out on your hard-earned money and medical benefits by falling for a scam. Many companies hire salespeople to pretend to offer benefits to seniors—particularly vets. Don't become a statistic.
Contact the Law Office of Michael Lawrence Varon in White Plains to learn more about VA benefit eligibility and the various processes. Call his office at 914-294-2145 to schedule a complimentary consultation.
Resources:
aarp.org/money/scams-fraud/info-09-2010/taking_aim_at_old_soldiers_.html
gao.gov/products/GAO-17-804T