What Happens To Veterans If The U.S. Defaults On Debt?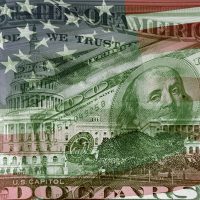 There are a lot of expenses going through the Department of Veterans Affairs (VA) every month. The agency spends a whopping $25 billion a month. Where is all this money going? Veterans benefits and employee salaries are some of the biggest costs, as well as private health care and pharmacy costs. The VA also makes payments to small companies that do business with the agency.
However, these payments are all in jeopardy. The United States is in a lot of debt — so much debt that it is reaching the debt ceiling. The debt ceiling, also known as the debt limit, is the amount of money the Treasury Department can borrow to pay the country's bills. Once the government hits the debt ceiling and has exhausted all available extraordinary measures, it can no longer  issue debt. It will then run out of cash on hand.
Extraordinary measures may include actions such as redeeming treasury bonds held in federal employee retirement savings accounts (replacing them later with interest), halting contributions to certain government pension funds, suspending local and state government series securities, and borrowing from money set aside to manage exchange rate fluctuations.
In any case, the United States is set to default at any time, but there's a possibility it could happen as soon. A default on the debt would be catastrophic, putting all those VA payments at risk. There is potential for any of the department's programs or payments to be significantly delayed or even halted.
Nearly $12 billion in veterans benefits are expected to be paid to 7.1 million veterans and their families on June 1. However, it's possible that those payments could be delayed.
Other payments could also be affected including $2.6 billion to health providers who treat 900,000 veterans through the community care program and $1.8 billion to contractors. In addition, the $835 million for pharmacy costs for 57,000 payments could be at risk. So could $3 billion for payments to small and veteran-owned businesses and $4.8 billion in paychecks to 451,000 VA employees.
President Joe Biden has made it clear that a default would be catastrophic for everyone in the United States, especially veterans, who greatly depend on their benefits. A default could erase millions of jobs, devastate retirement accounts, increase borrowing costs, and possibly trigger a recession.
House Republicans and the White House have been discussing solutions such as spending cuts and lifting the ceiling. While both sides are far apart, it is hopeful that they will make progress.
Learn More About Veterans Benefits
Debt has been an issue in the country for many years. It only got worse after COVID, when more money was printed to give to Americans for financial relief.
How will this affect your benefits? The White Plains veterans disability benefits lawyer from The Law Office of Michael Lawrence Varon can ensure you get what you deserve. Call 914-294-2145 or fill out the online form to schedule a free consultation.
Source:
military.com/daily-news/2023/05/24/va-issues-new-warning-default-could-have-catastrophic-effects-veterans.html