Woman Arrested for Social Security Disability Fraud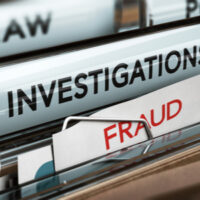 Fraud is common in many industries. The financial industry is prone to it. Those who are in charge of money can find ways to put it in their own pockets. Many people also concoct schemes to illegally obtain government benefits. Fraud, however, is a serious crime that can incur harsh penalties for those who are arrested and convicted.
This is the case for a Massachusetts woman who allegedly stole more than $88,000 in Social Security disability benefits over a 10-year period. The 60-year-old woman was arrested on November 15 and was indicted on two charges: theft of public funds and making a false statement.
In April 2017, the woman lied to the Social Security Administration. She told the agency that her only income came in the form of unemployment benefits and wages from two companies. She did not mention that she was also making money working as a caregiver.
The woman could face many years in prison, as well as hefty fines, for her crime. A person convicted of theft of public funds could face up to 10 years in prison with three years of supervised release. The fine is $250,000. For making a false statement, the punishment could be five years in prison and three years of supervised release, with a fine of up to $250,000. A federal district court judge will be in charge of sentencing. Many factors are involved, including U.S. sentencing guidelines.
Types of Social Security Fraud
Social Security fraud can happen in a number of ways. One common method is making false statements. This involves lying or hiding important information, such as the fact that you are earning income or are in jail. Also, a person cannot receive both Social Security benefits and workers' compensation benefits, so if you do not inform the Social Security Administration that you are receiving other benefits, this is considered fraud.
Misuse of benefits is also common. This includes using a parent's or sibling's Social Security benefits for your own purposes or not informing the Social Security Administration that the recipient has died, allowing the checks to continue.
Many people commit fraud by buying Social Security cards and numbers. They then use this information to sign up for benefits they did not earn. Some people do this by posing as Social Security Administration employees. They then prey on unsuspecting people, such as the elderly, and encourage them to give them their Social Security numbers. This then leads to fraud.
Learn More About Social Security Disability Benefits
Unfortunately, it is situations like these that make it hard for those who are truly disabled and cannot work to receive the benefits they deserve. When fraud occurs, it takes money away from those who truly need it. It also causes claims to be erroneously denied.
Obtaining the benefits you deserve can be complicated and frustrating. White Plains Social Security disability lawyer Michael Lawrence Varon can help you with your claim and prevent denials. He knows what you need to do to get approved quickly and easily. Schedule a free consultation by calling his office at 914-294-2145.
Resource:
heraldnews.com/news/20191115/fall-river-woman-indicted-for-social-security-fraud
https://www.nycompensationlaw.com/what-could-cause-your-social-security-disability-benefits-to-end/