Military Sexual Trauma Bill Leads to Expanded Benefits for Servicemembers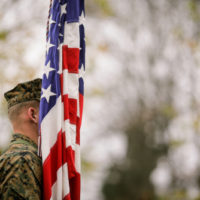 Many people join the Army, Navy, Coast Guard or other branch of the military because they are lured by benefits such as paid college, health benefits, pensions and home loan programs, among other things. However, military life is not easy. It's a rough life protecting the United States from threats of other countries. Veterans often suffer from post-traumatic stress disorder (PTSD) as well as physical injuries from active war. Some even suffer sexual trauma from other military members. These situations can cause them to become less than honorably discharged. They can lose their veterans benefits, and this is not fair.
Fortunately, a new bill in New York has led to expanded benefits for servicemembers who have been dishonorably discharged due to such trauma. United States Marine Corps veteran Janelle Marina Mendez, who lives in Dutchess County, New York, founded Military Sexual Trauma Movement after she experienced sexual violence during her time in the military. She received a less than honorable discharge because she was discriminated against for not only being a victim, but for also suffering from PTSD.
Mendez' story helped inspire policy reform around military sexual trauma. It helped create the legislation that Democrat Didi Barrett sponsored in the Assembly and that New York Governor Andrew Cuomo signed on Veterans Day. This bill is groundbreaking, as New York is the only state to have such a policy in place so far. The law also extends state benefits to veterans who are less than honorably discharged for traumatic brain injury, gender identity and sexual orientation.
When Mendez reported the sexual violence she experienced in the military, she was the one who got punished. The military unfairly discharged her after she experienced PTSD. She ended up homeless. She no longer qualified for military benefits. It took her two years to get out of homelessness and find a job in finance.
While things appeared to be looking up, Mendez faced another struggle: substance abuse. She felt ignored, with nobody to help her. She used this opportunity to make a difference in her community. She founded Military Sexual Trauma Movement to protect servicemembers like herself who have also experienced military sexual trauma by putting the burden on military agencies, the federal government, and local and state jurisdictions to put policies and procedures in place that will assist servicemembers who have suffered from sexual trauma in the military and give them the resources they need to move on instead of victimizing them further.
Contact Us for More Information About VA Benefits
This bill is a godsend for servicemembers who were discharged from service dishonorably due to sexual trauma, post-traumatic stress disorder, sexual orientation and other forms of discrimination beyond their control. New York law is allowing these people who have fought so hard to defend this country to get their honor back.
Having trouble receiving the benefits you deserve? White Plains veterans disability benefits lawyer Michael Lawrence Varon can fight for your rights. You should not have to suffer due to discrimination by others. To schedule a consultation today, call 914-294-2145.
Resource:
wamc.org/post/military-sexual-assault-victim-applauds-new-access-nys-veterans-benefits
https://www.nycompensationlaw.com/many-national-guardsmen-denied-veterans-benefits/